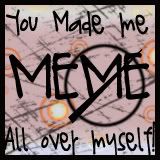 I saw this Meme over at Dawn's Diversions and she says to anyone that sees it to consider yourself tagged and to particpate. And so I will. After all, it has a cute title, don't you think? You can play too, if you're cool like me.

1. What were you doing 10 years ago?
We just made the big move to Claremore, Ok from Midland, Tx. Our neighborhood, which is out of city limits, was new so there weren't many neighbors around us and I remember it being dark and scary at night. My kids were young with my youngest being 6 months old. And I was fat, or fattish.

2. 5 Things on my To-Do List Today.
I plan to dust the furniture, make a trip to the grocery store, call a friend to have lunch, do some weight training and make dinner.

3. What snacks I enjoy.
I love peanut clusters, bit-o-honey, barbecue potato chips, powdered donuts and popcorn.

4. What would I do if I were to suddenly become a Billionaire?
Remodel our home and add a couple of extra rooms, plan for my kids to go to college anywhere they want and go shopping for clothes!!! I would do many things but I wouldn't get too crazy.

5. 3 Bad HabitsIs it awful that I can't think of any bad habits? I don't drink(only socially and rarely!!), smoke, or bite my nails. The worse thing I can come up with is that I might talk too long on the phone to my friends and family.(sorry, but I love you guys!) I'm definitely on the computer a lot... is that bad?

6. 5 Places I've lived.
I was born in Upland, California and we moved to Monahans, Tx before I was 3 years old and not for very long. Soon after we moved to Midland, Tx where I grew up. After I married, we moved to Oklahoma City, Ok and back to Midland and we now live in Claremore, Ok, just outside of Tulsa, OK, where I'm content to stay. I love the TULSA area!!

7. 5 Jobs I've had.
Famous Corndogs was my first job at the age of 15. I was employed by several retail companies, one being Waldenbooks and others that included JCPenneys and Sears. I worked in the accounting department for a couple of different places, mostly accounts payable. I now work at Lowes and I don't know if it's the job or the people that work there, but I love it!

8. 5 Things People don't Know About Me..
(1) I've had some weird "tics" that come and go without warning and stay with me for years. (2) My BFF is the only person besides myself that knows my deepest secrets. No one like her. (3) I had a job once where I dressed up like a gorilla and Kermit the Frog and delivered balloon bouquets. (4) I like to watch Family Guy. (5) I've always wanted to own a bookstore.